Platform
Bring your own tournament platform to life
Launch your white-label tournament platform to engage gamers with your brand, video game or organization
A powerful and unique platform for your gaming projects
Develop your gaming strategy faster and stand out among gamers communities with the first no-code customizable tournament platform powered by the most comprehensive management software.
Connect your brand with the gaming audience
Boost the reach of your brand or organization, and create long-lasting relationships through a tournament platform in your own identity and branding.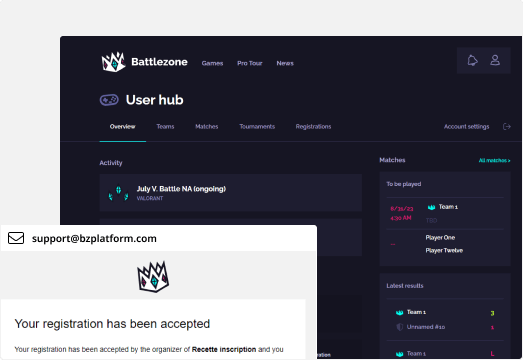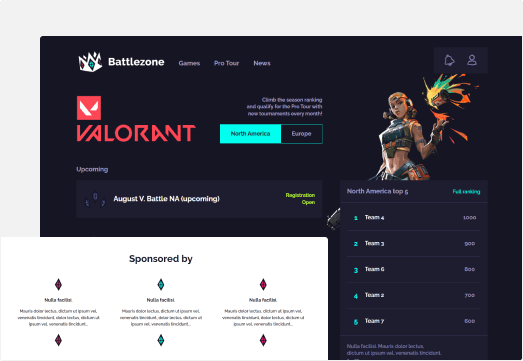 Build your own competitive ecosystem
Create a unique and centralized place for gamers to meet and play in your competitions. Open it to your whole community including organizers and streamers. Provide exposure to your partners and sponsors.
Engage with any community of gamers
Open up to all gamer communities regardless of the game, device and competition format. Your platform relies on the most complete tournament management software.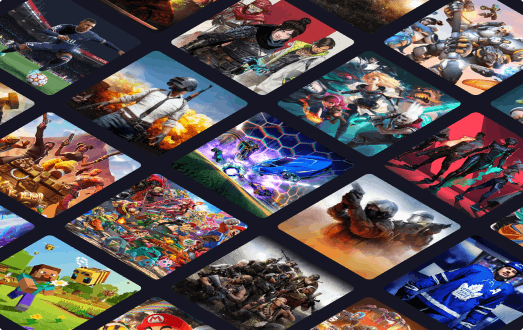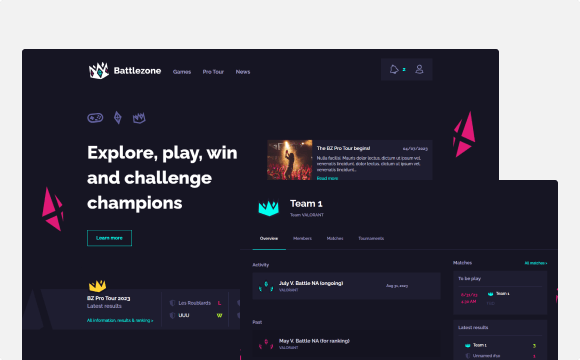 Test a full demo platform
Visit the "Battlezone" tournament platform demo. Explore its sections, create your player and team accounts, invite members or register for a tournament. Explore for yourself then request a full demonstration with our team.
Centralize and structure your gaming communities
Make your tournament platform the center of your gaming activities to engage all of your players more effectively through varied games and grassroot tournaments.
Organize without limits
Engage your community on any game and device, whether it is 1vs1, team or FFA matches, MOBA or simracing, PC or mobile, all in one place.
Keep your players captive
Design competitions organized in seasons with qualifier stages or weekly tournaments depending on the participants' region or level. Generate leaderboards based on participants' results.
Involve your community
Give your community leaders the opportunity to create and manage their own tournaments on the platform and contribute to its growth and success.
Share the management workload
Give access to your tournament platform management to an unlimited number of admins. Create and configure groups with their own access level and rights.
Create a unique and seamless user experience
Take full control over the design of the tournament platform, player registration and participation process on it, to create an experience that suits your needs.
Build and design your way
Define the theme and layout you want. Apply your own branding and visual identity. Customize how games and competitions are displayed.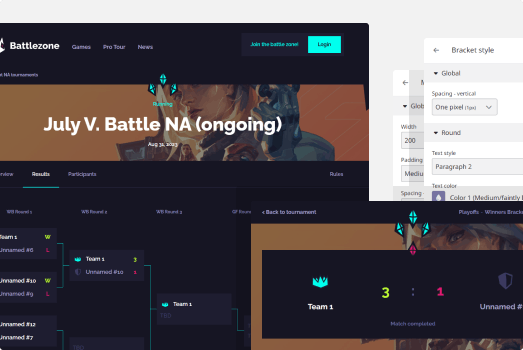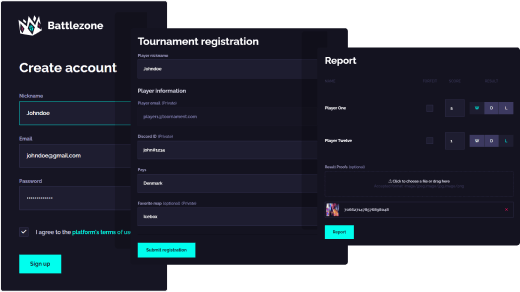 Seamless participant experience
From creating an account to registering for a tournament and reporting results, the entire player experience takes place on your own platform.
Third party and custom authentication
Deliver seamless tournament experiences to your customers by securely connecting the tournament platform to your own authentication services.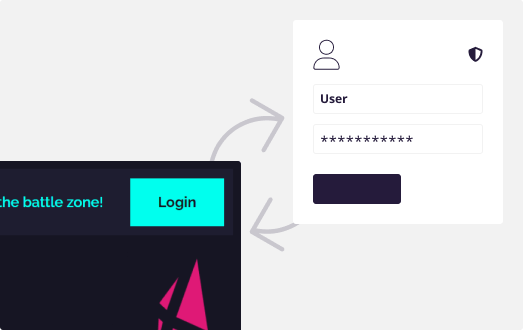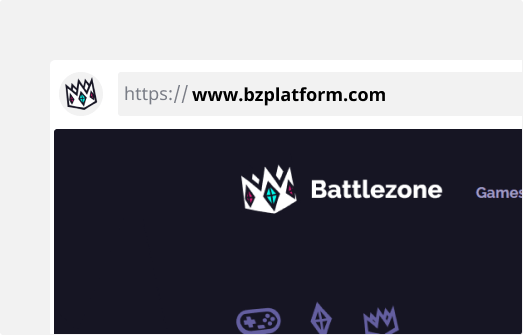 Custom domain name
Display your tournament platform on your own domain name, or one created for the occasion.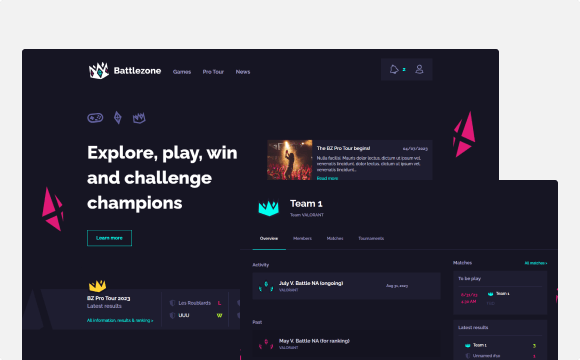 Visit a full demo platform
Test a real white-label tournament platform with the "Battlezone" demo website. Explore its sections, create your player and team accounts, invite members or register for a tournament. Explore for yourself then request a full demonstration with our team.
Speed up your tournament platform launch
Launch your tournament platform faster by overcoming the technical and time constraints while limiting your risks. Toornament provides a complete technical solution to accelerate the process.
Rely on the Toornament software
No more having to develop your own tournament engine first. Rely on Toornament to take care of the technical aspects of the competition, removing the need to develop the underlying infrastructure.
Design your platform without code
Toornament website builder lets you uniquely design your own tournament platform without coding. Customize and change every part of the platform, built around your tournaments data.
Focus on what matter the most to you
You can rely on Toornament's hosting servers and tournament engine maintenance, so you don't have to develop the infrastructure and greatly reduce your costs.
Enjoy a full range of additional services
Tell us about your project to benefit from the expertise of our team and our network of service providers: designers, tournament admins, gaming agencies etc.
Your platform, your data
With Toornament, you have full control over the data generated and collected by your tournament platform. Users and their data are managed separately from one platform to another.
Manage your data as you wish
Add custom fields to build the registration form you want and collect the data you need. Create, edit, and delete gathered data at any point in time. Export your users data for your organizational or marketing needs.
Data control
Toornament does not exploit your competition data for marketing and commercial purposes. As the data controller, you choose the purposes and means of processing your competition data, while Toornament acts as your data processor.
Dedicated competition space
All users, players, teams and competitions only exist on your platform, on a dedicated database.